Background information for your visit to the Eyrignac Gardens.
Set high in the Perigord Noir, 13 Km from Sarlat, Eyrignac and its gardens is an historic monument from the 17th and 18th centuries, open all year round to individuals, families and groups.  An absolute must see are the 300 sculpted plants, superbly and artistically hand clipped by our gardeners.  The lawns, the water features, the flower gardens and the White Rose garden makes Eyrignac an unforgettable visit whilst in the Dordogne.
The gardens are open every day of the year without exception
Ticket Office:
1st January to 31st March: from 10.30 a.m. to 12.30 and from 2.30 pm to nightfall
1st to 30th April: 10 a.m. to 7 p.m. continuously
1st May to 30th September: from 9.30 a.m. to 7 p.m. continuously
1st to 31th October: from 10 a.m. to nightfall* continuously
1st November to 31st December: from 10.30 a.m. to 12.30 and from 2.30 pm to nightfall
*Ticket office closes at 7 p.m.
Tarifs

pour la visite libre des jardins en individuel
Adult 13.50€ (12.90€ online)
Family Pass (valid for 2 adults and up to 3 children or teenagers) 42,00€ (39.00€ online)
Children (under 5) Free
Children (from 5 to 10) 6,90€ (6.50€ online)
Teenager (from 11 to 18) 8,90€ (8.50€ online)
New : Our adventure quiz are now available in English, our young visitors will visit the gardens with a compass, telescope or magnifying glass ! Upon request at the Ticket Office, no extra charge
Family Visits
Student (student card) 11,50€ (10.90€ online)
Disabled people  8,50€ (7.90€ online)
Pass Patrimoine (individual card valid 1 year) Enjoy Eyrignac as wish, all year long
Winter fee 11.50€  (10.90€ online)(from 1st January 2022 to 29th February 2022)
Wheelchair upon request
**Lieu labellisé Tourisme et Handicap
(Handicap Moteur, Mental et Auditif)
Fauteuil roulant à disposition sur demande
We accept cash, bank cheques, credit cards (except American Express)
Unaccompanied tour  (minimum of 15 fee paying visitors) 7.50€ per adult
Guided tour (minimum of 15 fee paying visitors)  8.50€ per adult
Only for groups : Full day Lascaux/Eyrignac
See Group visits
The gardens are situated at 13 km north of Sarlat.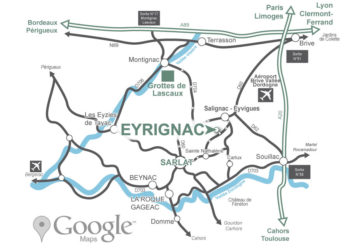 Sarlat 13 km, Souillac 20 km, Brive 40 km
A20 Highway : Brive or Souillac freeway exit
A89 Highway: La Bachellerie or Terrasson freeway exit
N°17 (Montignac-Lascaux) freeway exit from Perigueux-Bordeaux
GPS Coordinates
« Salignac-Eyvigues » (Château d'Eyrignac)
44.939130 1.315900
Brive-Vallee de la Dordogne 40 km
Bergerac 90 km, Limoges 150 km,
Toulouse 190 km, Bordeaux 200 km
Free map of the gardens available in 6 languages : Frecnh, English, Spanish, Dutch, German and Italian
Rental Audioguide : 2€ (Available in French, English, Spanish and Dutch)
Botanical walks
Two nature trails of 2.5km and 4.5km to discover the flora and fauna of the Dordogne
Restaurant and Tea Room « Côté Jardins » at the entrance of the Gardens
Open from 1st April until 31st October
Note that with your Adult entrance ticket, a 2€ discount will be granted on a meal only for Lunch (not available on drinks or slate plates)
Shady picnic area (free access)
Free car park in shady area
Camper vans welcome day and night
Changing facilities for babies
"Côté Jardins, Côté Manoir" Gift Shop open all year round (gardening and decoration)